If you can use a clown for your birthday party, company picnic, grand opening or other event who can do face painting, balloon sculpture, magic tricks to entertain children and adults, you need to call GENII BLUE at 425-557-6742 or e-mail at: geniiblue@cheerful.com

.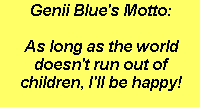 Keep Smilin'
MEET THE CLOWN
Genii Blue has been a clown since 1989, and in that time has seen, visited and played with uncountable numbers of children. She does birthday parties, company picnics, grand openings, holiday celebrations and many other venues where clowns are appropriate. Although most of her work is commercial, she has worked extensively with SIDS and other non-profit organizations, and visits children in area hospitals. ZOE, her alter-ego Elf character, will entertain you during Christmas holidays. Also, "Safe-Tee Clown" is a new safety clown character who will teach safety to elementarty and pre-school children through magic presentations.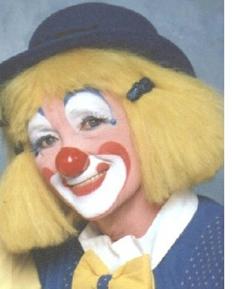 Check out the next few pages for photos of Genii Blue at work!